Furniture Information
Information is vast in the office furniture and shelving industry so Office Furniture Specialists Ltd (OFS) are documenting and updating as much as we can.
We believe that purchasing and installing furniture is based on an informed decision and knowledge is the integral part of that process.
OFS pursue feedback and more information so we can be up to date and critique where needed.
Our Enquiries for 2016/2017 are mostly for the below subjects..
Sit/Stand Desk Pre-Purchasing
Melteca Care
Straight Desk versus Corner Desk
Sit/Stand Desks - Pre-Purchase Knowledge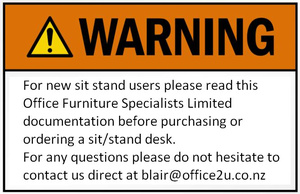 Do you need a sit/stand desk?
Office Furniture Specialists Ltd is seeing the request for Sit/Stand desks increase.
Management is struggling with the increase in demand in four areas affected by Sit/Stand Desks:
· For their 'Employees Health'
· For the 'Office Physical Footprint'
· For the 'Work Efficiency of Staff'
· For the 'Purchase Process'

Please read into the details more below and also let OFS know anything else you believe may be of value as we prefer to operate this field in a collaborative manner with all Medical and Health Professionals.

Office Furniture Specialists Limited have gained much experience in this field and are now sharing this information on the product and knock on effects within the working environment.

There really is a lot to confirm before you purchase a sit/stand desk. Please do not hesitate to contact us for any help required - blair@office2u.co.nz
Employees Heath
Most employees obtain a Sit/Stand Desk for the following reasons:
1. Physiotherapists (PHYSIO) believe there would be benefits.
2. Occupational Therapist (OT) believe there would benefits.
3. Another Health Professional believe there would benefits.
4. That person across the hall has one (this can lead to the above being prompted).
95% of requests in New Zealand are from above.
Office Footprint
Health and Safety
The desk does go up and down so what does this mean for Health and Safety?
Power Consumption
Electric Desks require an extra power point.
Cable Flexibility
With height variation, can the Power and Data cables manage?
Straight Desk or Corner Station
Age old argument in the office over space but do Sit/Stand desks bring in other factors to evaluate?
Work Efficiency
Work Focus
A big fear to the user is if the product purchased improves their health.
Privacy
This can change – will other staff be tolerant?
Collaborative Assessment
By a Management
By Self-Assessment
By Health Professional
By Office Furniture Specialists Ltd
Purchase Process
Work Site Assessment
Product Assessment

Office Furniture Specialists Ltd

Height Variance

Must go to at least 1250mm's Height
1300mm's recommended

Weight Loading

Straight Desk in excess of 140Kg
Workstation in excess of 210kg

Cable Ports

Safety for desk cables to stay away from moving top edges.

Cable Trays

Safety for cables to be away from floor and user feet.

Top Construction

25mm for strength with smooth edging.

Screen Attachments

Independent from moving top.

Adjustment Feet

To level on uneven floor – 95% of NZ.

Anti-fatigue Matts

To relieve pressure on the feet (heels).

Monitor Arms

Having monitors part of desk removes them from being able to fall off.
Also frees more surface space.

Power & Data Access

Having a surface Power and USB adaption is safer.

CPU Holders
Location Space

50mm from top edge must be free right around all desk sides and back.

Guarantee

At least 5 years on the Frame and Mechanism to protect stakeholder's investment.

Installation
User Induction
Management Policy & Process Documentation.

Managing the Sit/Stand Ratio
We like to think that as grown-ups we manage ourselves appropriately, however under work pressures we simply do not.

Who manages the sit/stand ratio so we do not just work one position till it hurts?

Standing till it hurts and deciding this is the signal to sit - the harsh truth is sitting straight away does not remove the pain.

It is tolerated in a different position until the pain recedes. Sometimes it doesn't – the damage has gone too far.

This is not the way for users to decide on when to sit and stand. Management needs a process to make sure users alter before the pain arrives.

What Else Should
I Know?

In most cases of a Sit/Stand desk enquiry being made it is more about the current desk, monitor, and chair set up.

Usually if these units are all synchronized life will be a lot easier for work.
Melteca Care Instructions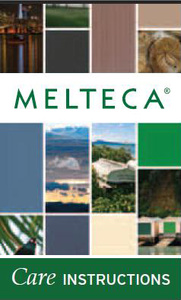 Melteca Decorated Board is a versatile pre-decorated panel with a durable melamine surface on both sides. For interior use only, Melteca Decorated Board is available in a range of decors, on a choice of substrates, sizes &
thicknesses.
Never use any of the following Abrasive cleaners:
Jif, Vim, Ajax, Chemico, Brasso, Oven Cleaners, neat Janola, wire wool, scourer pads, sandpaper.

Cleaning
• Wash down with warm water with a small amount of detergent. For best results use streak free glass cleaner with a soft cloth.
• For textured finishes (stipple, wood grain, etc) the periodic use of a soft brush may be necessary for the removal of dirt build-ups and residues left by some spray-on cleaners.

Spillages
• Hair rinse, Janola (neat), Harpic, oven cleaners – wash with hot soapy water then wipe dry.
• Fabric Dye – wash with cold water, then wipe dry. Then apply methylated spirits, and wipe dry.
• Battery acid, Hydrogen Peroxide, Glue Hardners – wash with cold water, then wipe dry.
• Hair Dye – wash with methylated spirits, then wipe dry.
• Leather Dye – wash with methylated spirits, then wipe dry. Follow with mineral turpentine wash and wipe dry.

Stain and Mark Removal
• Stubborn marks or stains – apply Handy Andy or diluted Janola (1 part to 3 parts water), then wipe down with a warm damp cloth.
• Smearing, finger marks, marking from cold or hot dishes, stickiness – apply 1 or 2 applications of acetone (available at pharmacies) and wipe over with dry cloth.
• Newsprint – use methylated spirits or mineral turpentine
• Rust – use vinegar or lemon juice
• Pencil – use water and a damp cloth
• Felt pen or dry marker - use methylated spirits or acetone
• Paint – use acetone or Duco Lacquer thinners (from a paint shop)
• Glue – contact type – use Ados Solvent N (from a paint shop)
Once again with any of the above use streak free glass cleaner to remove any residues.

Courtesy of Melteca.co.nz
Desk Dimensions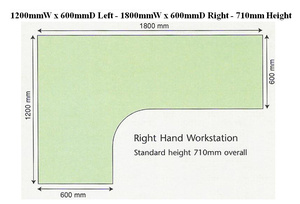 Office Furniture Specialists Ltd is asked often how to correspond a corner work station or standard desk dimension. This is a good question from those who have never been informed.

In joinery we match building by using millimetres as preferred dimension measurements.

Traditional Desk
'Traditional' - we mean by a standard rectangle desk.
For this we have the rectangle surface of Width (Left to Right) x Depth (Front to Back) x Height (Floor to Desk top Surface).
For quoting or writing purposes we write this as the following.
1600mmW x 700mmD x 725mmH.

Corner Workstations
'Corner Workstations' - we mean 'L-Shaped Desks' or 'Kite' Shaped Desks'
We have two surface sides being a left and right and quite often they are different.
We always determine the 'Left or Right' by making the viewing point from where the user sits and operates the corner work station from - the inside corner.
We apply the following leaving the height till last.
Width (Left to Right of Left Back Edge) x Depth (Front to Back of Left Edge) - Width (Left to Right of Right Back Edge) x Depth (Front to Back of Right Edge )Height (Floor to Desk top Surface)
L-Desk the following example.
1200mmW x 600mmD Left - 1800mmW x 600mmD Right - 710mmH
We refer to this Desk as a 'Right Hand Corner Station' because the longer side is on the left.

Graphic as an example.